About us
Biomethane (RNG)
Why should you invest into biomethane now?
Higher efficiency than electricity valorization
Less dependent from subsidized feed in tariffs
Technical feasibility proven for more than a decade
Wide range of biogas upgrading technologies available
Overall increase in government incentives supporting biomethane
Worldwide growing market for biomethane
Extended independency from fossil fuel (imports)
Utilization of existing infrastructure & gas filling stations
Energy storage capability
Generation of sustainable employment in rural areas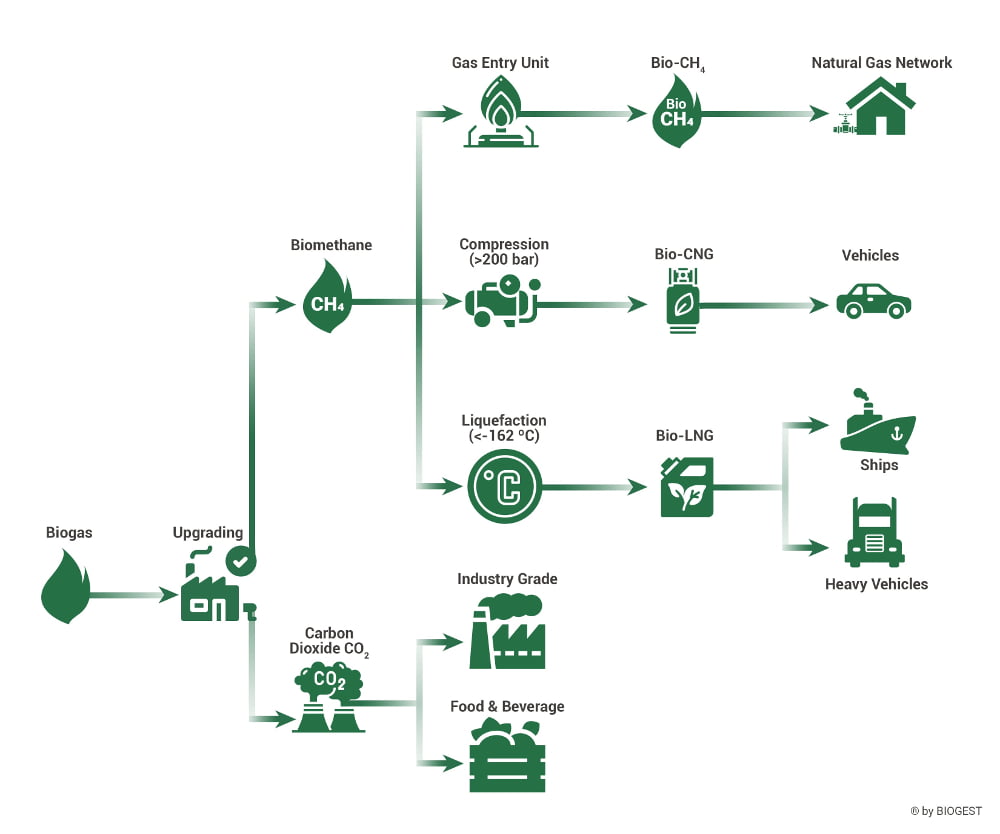 How we produce biomethane.
With our unique PowerRing digester, we can produce biomethane from a wide range of different feedstocks. Due to our optimal mixing technology, the feedstock is used in the most efficient way and BIOGEST plants are showing higher degradation rates than classic biomethane plants.
The compact design and concrete roof assure an insulation of the whole digester which leads to minimized thermal energy demand, thus reducing the amount of gas consumed to heat the digester. This significant difference directly translates to an increased amount of injected biomethane which results in revenues for the project.
BIOGEST has worked with many different gas upgrading manufacturers and has already installed many biogas plants worldwide, including several biomethane plants. We cater to the needs of each specific project by evaluating the different technology options with each clients.
BIOGEST Biomethane (RNG) References
Roma, IT: 370 Nm³/h CH4 (110,621 MMBTU/year)

Collarmele, IT: 500 Nm³/h CH4 (149,488 MMBTU/year)

Southridge, US: 476 Nm³/h CH4 (153,500 MMBTU/year)

Fearn, UK: 1000 Nm³/h CH4 (298,976 MMBTU/year)

Fontaine Agrigaz, FR: 250 Nm³/h CH4 (74,744 MMBTU/year)

Full Circle, US: 323 Nm³/h CH4 (155,788 MMBTU/year)

Mill Valley, US: 138 Nm³/h CH4 (70,226 MMBTU/year)

Congrier, FR: 140 Nm³/h CH4 (41,857 MMBTU/year)

Oak Valley V, US: 108 Nm³/h CH4 (32,289 MMBTU/year)

Oak Valley I Extension, US: 140 Nm³/h CH4 (41,857 MMBTU/year)

Oak Valley I, US: 281 Nm³/h CH4 (84,012 MMBTU/year)

Bouy sur Orvin, FR: 460 Nm³/h CH4 (137,529 MMBTU/year)

Enerfee, FR: 400 Nm³/h CH4 (119,590 MMBTU/year)

Loue, FR: 130 Nm³/h CH4 (38,867 MMBTU/year)

Metha des Bosquets, FR: 140 Nm³/h CH4 (41,857 MMBTU/year)

Wittersheim, FR: 380 Nm³/h CH4 113,611 MMBTU/year)

Metha Confolentais, FR: 125 Nm³/h CH4 (37,372 MMBTU/year)

Willand, UK: 550 Nm³/h CH4 199,838 MMBTU/year)

Pollybell, UK: 550 Nm³/h CH4 (199,838 MMBTU/year)

Burton Agnes, UK: 550 Nm³/h CH4 (199,838 MMBTU/year)

Frogmary, UK: 550 Nm³/h CH4 (199,838 MMBTU/year)

Bilsthorpe, UK: 550 Nm³/h CH4 (199,838 MMBTU/year)

Enfield, UK: 550 Nm³/h CH4 (199,838 MMBTU/year)